Latest Features
The issue of solidarity payments for academies developing US soccer talent remains decidedly unsettled following a Fifa ruling in June
Research from marketing agency Red Hot Penny suggests clubs across the UK need  major rethink of how they convert social engagement into retail sales
Wi-Fi network and Bluetooth beacons capture crowd movements Catering JV to offer more food and beverage options and speedier service
Clubs are increasingly using premium fan experiences to maximise their revenue streams and offset the costs of expensive new stadia.
Simon Babes looks at the crucial factors to consider regarding match-day experience and crowd movements when a stadium construction project is on the table.
Features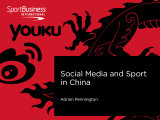 English Premier League club Tottenham Hotspur has an estimated fan base of around 45m in China, according to the club, with five Official Supporters Clubs in the country. It has over 2m followers on Weibo and has its own WeChat page and Youku channel.
With both soccer and American football to host in the future, how will English Premier League side Tottenham Hotspur's new stadium accommodate for both without compromise? Elisha Chauhan reports.