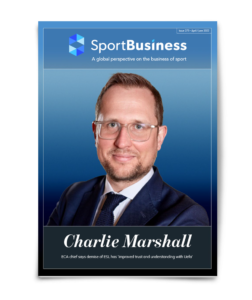 Our global editorial teams in New York, London, and Singapore bring together a truly global perspective on the industry and this magazine is a chance, once a quarter, to understand the things that really matter.
The magazine includes an exclusive interview with Charlie Marshall, managing director of the European Club Association, who speaks about the organisation's new 50-50 joint venture with Uefa and the recent RFP for European club competition rights.
For this and much more, read and download the latest issue below.
[sf-button link="https://dgh6pthnj75vb.cloudfront.net/uploads/2022/07/SB-273-July-2022-Final-spread.pdf" text="DOWNLOAD HERE" style="primary" size="large"]
You need to have an account to access our content
Find out more about our news, features and services