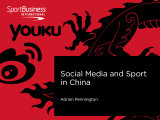 In 2011, Wimbledon began to rethink its approach to China and in particular how it engaged with Chinese fans. Historically, promotion was pretty much limited to what its Chinese broadcast partners did to promote their coverage.
Subscribe to unlock this article
Explore our subscription options to continue reading our industry-leading content!